How fast can Modicare Cuckoo purify your home?
Enter Room Dimensions
*Average height of ceiling taken as 10 feet
Clean Air Delivery Rate of the Purifier:
Enter CADR:
(Clean Air Delivery Rate)
Please enter the values above to check the rate of purification
Pure air in

Unmatched Filtration
3 Stage Filtration + UV
Removes 99.9%* airborne particles, allergens & dust+ UV LED sterilization that continuously disinfects filters and other components.
*As per test reports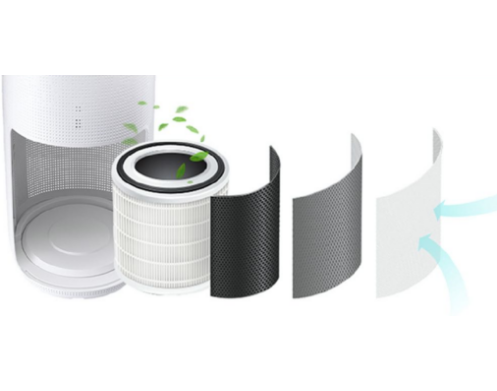 Air Quality Indicator
Indicates real-time air quality updates with 3 coloured LED Lighting (Blue - Best Air Quality, Yellow - Normal Air, Red - Poor Air Quality).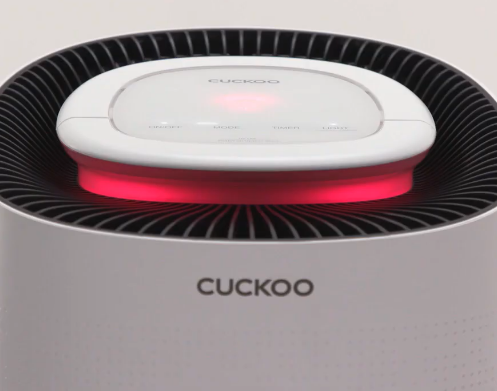 One Touch Purification
Control air speed by selecting Auto Speed, High Speed, and Sleep Mode.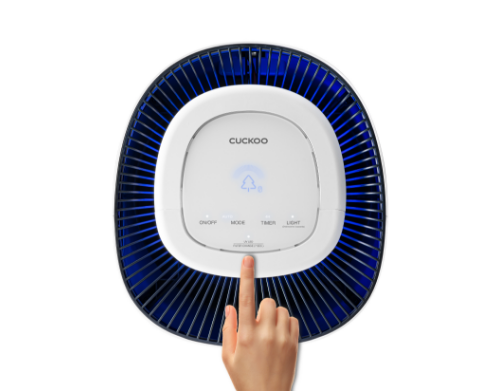 Filter Change Indicator
The filter indicator indicates when the filters need changing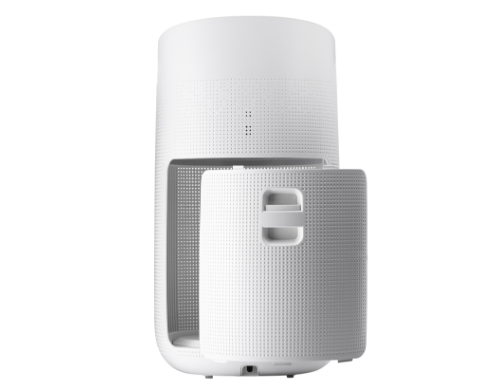 Effortless Filter Change
Remove back cover and change the filter. It's that simple!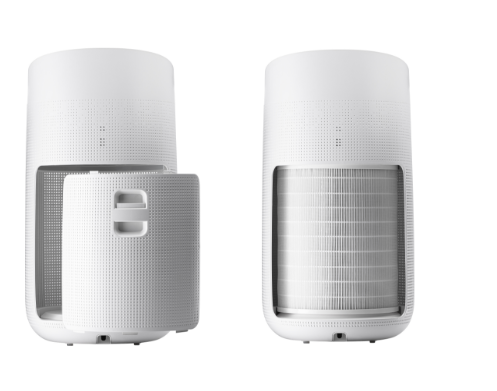 Best in Class Features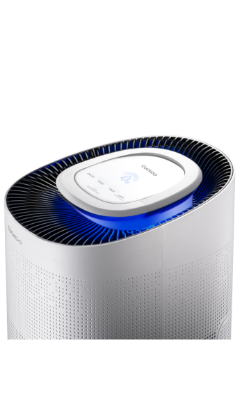 Intuitive Control Panel
Control the air quality by selecting between auto mode and sleep mode. UV light enables you to customize the timer to 2hrs, 4hrs & 8hrs.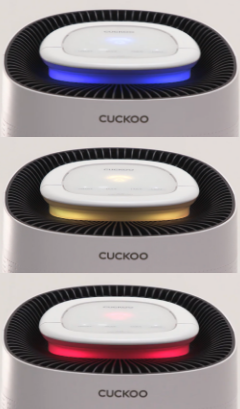 3 Color Air Quality Sensor
Indicates real-time air quality updates with 3 coloured LED Lighting (Blue - Best Air Quality, Yellow - Normal Air, Red - Poor Air Quality).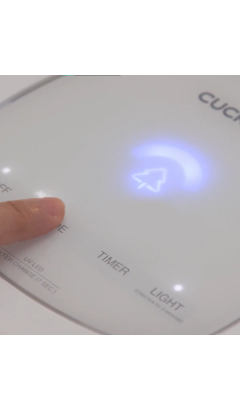 Multi Mode Selection
Control air speed by selecting Auto Speed, High Speed, and Sleep Mode.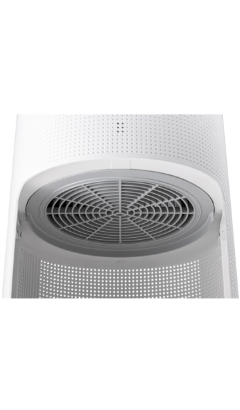 Automatic Fan Speed Control
Automatically changes it's fan speed according to the real-time air quality it senses.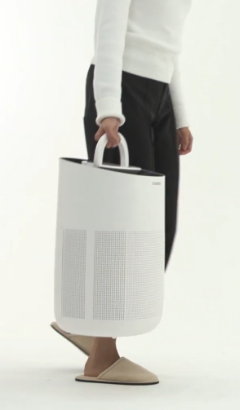 Light weight
Built-in handle to conveniently lift light weight up to 6kg and move purifier anywhere in room.
Know more about
Technical Specs
Dimensions (LxWxH)
10.6 x 11.9 x 19.6 inch
Included Components
Power Cord Charger
Power Supply
AC100-240V, 50Hz/60Hz
Filters
Pre Filter, True HEPA Filter, Active Carbon Filter
Dust Collection Method
Mechanical dust collection method
Coverage Area
Upto 550 sqft
More Info
Indoor air pollution can be upto 10 times worse than outdoor air pollution.* Indoor air pollution is alarming as 90% of our lives is spent indoors. This has increased even further with the practice of work from home. Furthermore, the more vulnerable section of people like children, pregnant women, the elderly and the ailing spend more time indoors. Hence the need for an air purifier to safeguard our health is paramount.
*As per NCBI https://www.ncbi.nlm.nih.gov/pmc/articles/PMC4215499/
The product has a built-in pollution sensor that can sense indoor pollution and give LED color indication as Blue for excellent air quality, Yellow for moderate air quality & Red for poor air quality.
Removes 99.9%# airborne particles, allergens & dust - 3 in 1 True HEPA Air purifier (Pre-filter, True HEPA filter, Active Carbon). #As per test report
4 Fan Speed Modes - Auto mode, H Mode (High Speed), M Mode (Medium Speed) & Sleep mode (Low speed)
OFF timer 2hr -4hr - 8hr option
Touch panel with child lock function
UV LED sterilization for disinfecting microbes in the air
Pollution sensors with real-time pollution level colour indication (Blue – Excellent/ Yellow – Moderate/ Red – Poor)
Filter Change Alarm
Easy to carry with in-built handle
For Customer complaints / feedback, please contact our Customer Care Executive at,
Cuckoo Appliance Private Limited
Customer Care No.: 1800-212-1978
Email:
support@cuckooindia.in
Modicare Limited
Customer Care No.: 0124-6912900
Email:
support-modicare@modi-ent.com
Service available on these pin codes
Note: The service will also be available in other pin code that are not found in the above box.
One can call the above toll-free number to avail service.
If the product is in use, the Pre-filter (outer net-like filter of 3 in 1 Filter) & cover might get dusty which can be easily cleaned using a soft cloth or soft brush. Vacuum cleaner on low power can also be used to clean the filter. DO NOT wash the HEPA CARBON COMPOSITE FILTER in water. It is recommended to clean pre-filter after every 2 weeks of use.
The 3 in 1 True HEPA filter cartridge is non-washable, thus needs periodic replacement. It has to be replaced after 3000 working hours.
It consumes 50W of power and can be connected to a sine wave inverter with AC 230V 50Hz rating.
Indoor air pollution can be lowered by identifying the sources of the pollution then eliminating them one by one. For pollution sources that are beyond one's control, a Cuckoo air purifier helps to lower them like environmental pollution (PM 2.5), allergens, pollen, pet hair, VOCs from furniture, etc. Purifier when kept ON in a room (about 550sqft) will slowly suck all pollution in the air, trap it inside its filter and give out pure air. It also has a built-in UV LED sterilization function (recommended to keep it ON always) when turned ON sterilizes air, filters & FAN at the same time. It is important to clean the Air purifier's pre-filter every 2 weeks and replace the inside filter after its life is over for best results. Since the purifier is lightweight, it can be easily lifted and carried wherever needed.
The product is very easy to operate and convenient to use. For the user's safety, below are points to keep in mind while using the product as per page 12 of our user manual.
Safety Instructions
Do not block the air intake or outlet.
Do not expose the air purifier to direct sunlight, a naked flame or heat.
Only use the air purifier in living quarters and within the specified technical parameters. Improper usage may pose a threat to life and health.
Do not use the device near the smoke detector. Air blowing towards a smoke detector could delay the alarm or not trigger it at all.
Caution
Risk of injury due to electric shock.
Always disconnect the mains plug prior to:

Maintenance and cleaning
Moving the device
Changing the filter

Do not use any spray cans with flammable contents near the air purifier
Do not use any flammable cleaning agents
Cuckoo air purifier is meant for domestic use & indoor use only. Below are its installation parameters-
Room Size - up to 550 sq. ft. (do not operate near pollution source or open window)
Placement – on the floor at least 1ft away from walls
Power supply – 100V - 240V, 50/60 Hz AC.
3 in 1 filter cartridge to be installed as per user manual. (Plastic bag removed)
Yes, the LED of the Filter Change button on the front panel will flash a red LED to alarm about filter replacement.
Replacement filter can be ordered from Modicare using the normal ordering process.
Terms & Conditions
Cuckoo Air Purifier comes with 1+2 years extended onsite warranty from the date of invoice.
Air filter and plastic parts are not covered under the warranty.
Warranty involves repairing of defective product/parts and does not entitle purchaser for the replacement of complete product.
The company or its authorized service centers reserves the right to retain any part or parts, or components replaced at its discretion in the event of a defect noticed in the equipment during the warranty period.
In the event of repairs/replacement of any part/parts of the unit, this warranty will thereafter continue and will remain in force only for the unexpired period of the warranty. Moreover, the time taken for the repairs/replacement and in transit whether under the warranty or otherwise shall not be excluded from the warranty period.
Any change of address shall be intimated to the company for continuation of the warranty. Failure to do so will absolve the company of the obligation under this warranty. Charges for installation, uninstallation, inspection, and reinstallation of the product are not covered under the warranty and will be borne by the purchaser.
The warranty will automatically be terminated on the date of expiry of the warranty period.
The cleaning of filter, if applicable in the product, is not covered under the warranty and in the event of filter cleaning and need for subsequent replacement of filter, the charges will be borne by the purchaser.
Filter Maintenance and Replacement Suggestions: Remove the plastic pouch of HEPA filter at the time of installation. The filter life fully depends on the nature of indoor environment and duration of usage. It should never be washed. The darkening of the filter layers is normal due to dust, smoke etc. getting trapped in them. At times, it may produce some odor and needs to be exposed to bright sunlight for 3 to 4 hours at least once in 30 days. If you feel even after cleaning the outflow of air has dropped by 50% or more then it is time to replace the filter.
THIS WARRANTY IS NOT APPLICABLE IN ANY OF THE FOLLOWING CASES:
1. If purchased through any online shopping portals like Amazon.com, Flipkart.com etc.
2. If the warranty card and/or the invoice is not presented to the authorized personnel at the time of repair.
3. The product is not purchased from Modicare Limited or their Consultants/Representatives.
4. Defects caused by improper use as determined by the company's technician.
5. Modification or alteration of any nature is made in the electrical circuitry.
6. Any prior work is carried out by persons/agency other than authorized by the company.
7. The original serial number is removed, obliterated, missing or altered from the machine.
8. Defects due to cause beyond control like lightning, abnormal voltage, acts of God or while in transit to service center or purchaser's residence.
9. Any damage caused due to fire, flood, accident, corrosion, abuse or misuse.
The extended warranty offer is valid on purchases made from Modicare Limited.
The extended warranty offer will cover the equipment /models in case of any electrical & component failure (excluding consumables & physical damage).
Cuckoo Appliances Private Limited either by itself or through any of its Authorized Cuckoo Service Centers, agrees to provide these maintenance services:
•Corrective and remedial maintenance as decided from time to time by the company.
•Services to rectify the malfunctioning of the equipment as and when required.
•Electronics and electrical parts covered within Extended Warranty period.
The Customer needs to get the filter changed of their Air purifier only with genuine Cuckoo spare parts/accessories and only through the authorized partners / representatives of the company.
Any damage caused to the product, its outer or internal body due to any act of the user by force or deliberate damage or by falling of the machine by the consumer, will not be covered by this warranty in any case.
In case of servicing at customer's place, the servicing can be done on all working days during normal working hours of the company's service center. The customer shall provide reasonable facilities which may be required for carrying out the servicing without any hindrance whatsoever.
Consumable items are subject to normal wear and tear and are not covered by this Extended Warranty.
The product's plastic body is not covered under this warranty and hence, it must be handled with good care to guard against breakage.
During the term of this warranty the customer shall not directly or indirectly open, alter, tamper with the equipment or in any way commit any act which would result in changing the internal operation of the equipment or entrust the servicing of the equipment to any unauthorized personnel as breach of any of these conditions of the warranty will be treated as expired.
The Customer will have no claim against Cuckoo or Modicare under or pursuant to this Warranty in respect of death or injury to the Customer or any other person or loss or damage to any property caused by or due to equipment failure, breakdown, fire, accident or operation/utilization of the goods otherwise than in accordance with the User Guide or by or due to the own negligence of the Customer or by or due to any other cause or circumstances beyond the control of Cuckoo or Modicare.
Cuckoo and Modicare shall not be liable for damage caused by service performed by anyone who is neither the manufacturer of Cuckoo nor a representative of Modicare.
Cuckoo and Modicare shall not be liable for the product or any part thereof if that has been modified without the prior permission of Cuckoo and/ or Modicare.
Cuckoo and Modicare shall not be liable for the product not accompanied by the Sales Invoice.
Except as provided in this warranty and to the maximum extent permitted by law, Cuckoo and Modicare is not responsible for any direct, special, incidental or consequential damages resulting from any breach of warranty or condition or under any other applicable law.
Register Product
in 1 Easy Step